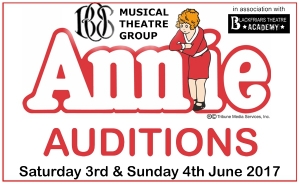 Wednesday 17th May
The Blackfriars Theatre Academy are teaming up with BOS Musical Theatre Group for their production of 'ANNIE' in November.
Auditions will be held at Blackfriars Theatre on 3rd and 4th June details in the image below.
Child Auditions for ANNIE are taking place on SUNDAY 4th June, if your child is a member of the Blackfriars Theatre Academy then you only need to attend these auditions if you would like a main part. The whole of the Infant and Junior groups will be ensemble orphans and will be divided into Show teams once the principals have been cast.
Please look in the theatre foyer for audition material or check out the dedicated audition Facebook group, and note that you need to register for the auditions.