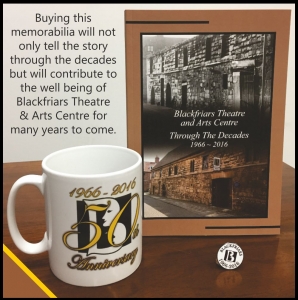 Thursday 15th December
2016 has been a special year for Blackfriars Theatre and Arts Centre and to celebrate we have introduced some items of memorabilia throughout the year. This includes the 50th Anniversary Mug and Pin and 'Through the Decades' book written by local author Jane Keightley.
All of the items are available individually or as a package deal - please see offers and prices below.
50th Anniversary Mug - £3.00
50th Anniversary Pin - £1.00
'Through the Decades 1966 - 2016' - £9.99
Package Price for all 3 items - £12.00
All items are in stock and can be purchased from Box Office just pop in and see one of our friendly volunteers.
We can also send the book out in the post if you wish - we charge £2 P&P just give Box Office a call on 01205 363108.
All money raised from the sale of these items goes toward to the Theatre to help maintain and renovate this beautiful building - please help support us and keep Theatre LIVE in Boston.