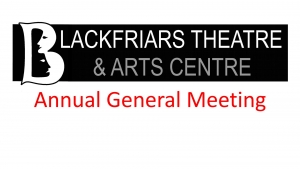 Monday 19th September
It's that time of year again when Blackfriars Annual Memberships are due and the Annual General Meeting is held.
If you are interested in becoming a member or attending the A.G.M then please see details below.
To become a Blackfriars Member click here or pop in and see one of our Volunteers in Box Office who can register your details. The cost is just £10 for the year which runs September - August.
The A.G.M is being held on Monday 26th September at 7.30pm at Blackfriars Theatre. All are welcome to attend the meeting but only paid up members are elidgible to vote on any matters arising or new Directors of the Board.
If you are unsure if you have a paid up membership please contact Brenda Fleet in Box Office or email andrea@blackfriarsartscentre.co.uk and they will check for you.