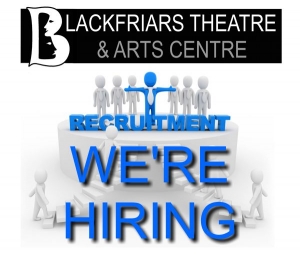 Friday 13th May
Blackfriars Arts Centre Ltd are looking for a passionate person or group to take over the running of the Blackfriars Theatre Academy.
We are looking for organised individuals who are experienced in theatre and are highly trained and motivated.
The academy takes place on a Saturday and the ages of children attending are from 4 years to 19 years old.
The current academy specialises in high quality Singing, Dancing, Speaking and Acting tuition. In addition to a summer Musical and a Christmas cabaret production, they stage regular presentations for parents. Tuition is currently aimed at bringing pupils up to Trinity College London Examinations in Musical Theatre. This structure is sought to be maintained, however the growth of the academy is also important, with new ideas and additional services offered key.
This year we have also introduced a Summer School which is proving popular so the new principals will be required to take this on during August and September.
The current operators of the academy would look to integrate the new principals over a period of time towards the end of the academic year, with a formal handover with parents at the end of July.
We are inviting proposals up until 3 June 2016.
For further information and to apply please e-mail Robert@blackfriarsartscentre.co.uk