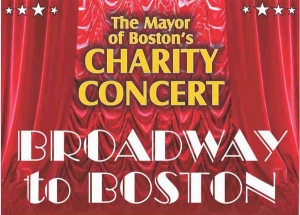 Sunday 28th February
Another packed auditorium at Blackfriars Theatre on Friday night for the Mayors Charity Concert - Broadway to Boston.
With just a handful of seats to spare the Theatre was alive with people and buzzing from the start. The crowd were entertained by a group of 15 solo performers and supported by the Blackfriars Theatre Academy who opened the concert with a fabulous rendition of 'Pure Imagination' from Charlie and the Chocolate Factory. Things progressed from there with the performers taking the audience on a one way trip from Broadway to Boston via France and London.
The music included songs from 'Witches of Eastwick', 'Wicked', 'Rent' and the ever popular 'Les Miserables' which included a beautiful rendition of 'Castle on a Cloud' by one of the youngest performers Emma Pearson. The second half continued to build with shows such as 'My Fair Lady', 'Mary Poppins', 'Oliver' and 'Into the Woods' before finishing the evening with an outstanding performance of '9 to 5' written by Dolly Parton and the title song from '9 to 5 The Musical' giving the audience a taste of things to come as local society - BOS Musical Theatre Group will be showcasing this show here at Blackfriars Theatre in April.
A fabulous time was had by all and the profit from the event will go to the Mayor's Charities - Boston Woods Trust and the Butterfly Hospice.
The Worshipful, the Mayor of Boston made a speech at the end of the performance and personally thanked all of the people involved in putting on the show including the performers who gave their time to rehearse and perform the concert for nothing and also to the audience for supporting the night.
The Mayor is organising a number of future events in Boston including a Boston Marathon in April so keep an eye out for details.