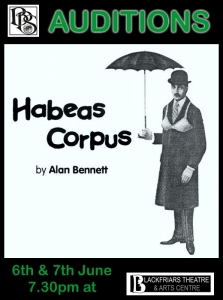 Saturday 3rd June
Boston Playgoers Society are holding Auditions for their October production of 'Habeas Corpus' by Alan Bennett, directed by Jo Warrick.
Auditions will take place on Tuesday 6th and Wednesday 7th June at 7.30pm at Blackfriars Theatre and Arts Centre.

Mismanaged lust - mistaken identity - dropped trousers...'Habeas Corpus' has all the ingredients of a classic farce, spiced with the warmth and humanity of Alan Bennett's razor-sharp wit. It originally starred Alec Guinness, Phyllida Law and Andrew Sachs.

Characters: (playing age in brackets)
Arthur Wicksteed, a General Practitioner (50s)
Muriel Wicksteed, his wife (50s)
Dennis Wicksteed, their son (20 to 30s)
Constance Wicksteed, the doctor's sister (35-40s)
Mrs Swabb, a cleaning lady (40+)
Canon Throbbing, a celibate (35-40s)
Lady Rumpers, a white settler (50s)
Felicity Rumpers, her daughter (20-30s)
Mr Shanks, a sales representative (30+)
Sir Percy Shorter, a leading light in the medical profession (40-50s)
Mr Purdue, a sick man (30+)
Performance dates are:- 18th - 21st October 2017.

For more information or audiditon material please visit the website here or contact Jo Warrick