Refurbishment Plans
Blackfriars Arts Centre and Theatre is our passion and the aim is - to Keep Live Theatre in the Heart of Boston. To be able to enjoy wonderfully talented amateurs and gifted professionals who will deliver something special for everyone in our hometown. As with any voluntary organisation people dedicate hundreds of hours of unpaid work to try and create or maintain a community based facility.
Blackfriars continues to give strong support to the local amateur societies and delivers a very high standard academy for the youth in our area. Also in the past year the Centre has seen a return to its core values and re-opened as an Art Gallery along with re- introducing Life drawing classes.
The board of Directors/Trustees have agreed to enter into the first phase of the Blackfriars refurbishment plan, which is replacing the seats in the auditorium with special emphasis on extra legroom. We are to launch two initiatives to help finance the project.
1-As a theatre we have never charged a 'booking fee' at our Box Office and don't intend to. It is however our intention to introduce a 50p per ticket refurbishment 'levy' from September 2015. This money will go directly into a fund to maintain and improve our facilities. This fund also creates 'match Funding' opportunities for us to explore and apply for.
2-We are also delighted to 're-launch' our 'Sponsor a Seat' campaign' to individuals. The offer includes an engraved message/dedication on the seat of your choice (subject to availability). Please ask Box Office or see below for more information.
The success of any town is dependent on the facilities offered within it. We are grateful to all the volunteers and donations we have received so far. We hope that more will support us in the future.
'Sponsor a Seat'
We are delighted to announce the 're-launch' of the seat sponsorship which coincides with Phase 1 of the seat replacement in the Auditorium. We are sacrificing a chair in each of Rows A to E to facilitate a wider chair but perhaps even more importantly we have increased the footplate between the rows.
Rows F and G are to be included in Phase 1 as is new carpet to compliment the new seats.
The Directors wish to thank those 'Seat Sponsors' who have been patient over the years when it has not quite been possible to begin the process. Each seat, extended footplate and new carpet will cost approximately £240.
The Auditorium will be closed throughout August and re-open in September with Phase 1 complete so come along and enjoy more comfort when watching our autumn / winter program.
We are also inviting local businesses to be involved in this refurbishment to enable Phase 2 to begin in August 2016 as we celebrate our 50th Anniversary of those volunteers who cleared the site and raised funds to build the 'Little Theatre' we still enjoy today.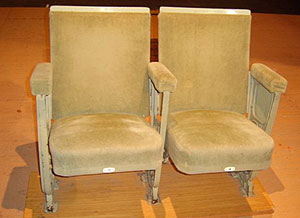 Some of the old seats to be replaced.
To receive a 'Sponsor a Seat' application form please call Box Office on 01205 363108 or email marketing@blackfriarsatrscentre.co.uk.
We will post an update on here once the new seats are in place.