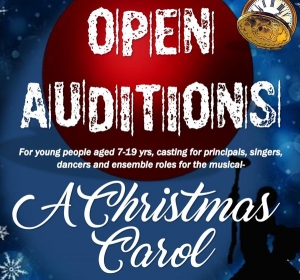 Friday 12th August
We are delighted to announce that we will be holding Open Auditions for the first Blackfriars Theatre Academy Musical- 'A Christmas Carol'. Ages 7-19, all abilities welcome, from complete beginners to seasoned board-treaders!
There is a huge cast requirement for this dark yet ultimately uplifting show, come along, bring a friend and give it a go!
AUDTION DATES:-
SUNDAY 14TH AUGUST - 11AM - 2PM
WEDNESDAY 24TH AUGUST - 11AM - 2PM
SCHEDULE FOR THE DAY
Everyone arrives at 11am to register.
We will do a vocal warm up all together followed by a physical warm up all together.
You will be taught a short dance routine to one of the songs from the show, then you will be able to go into a different room and practice the dance routine (which you will be performing in small groups) or practice your own auditions.
While this is happening you will be called one at a time into the audition room to perform your dialogue and song excerpt (if you are choosing to sing).
When everyone has had a turn then you will be called in in your small groups to do the dance audition.
BREAK A LEG!!
*Please note that if you are sucessful at audition and would like to take part in the show, you will need to become a member of the wonderful Blackfriars Theatre Academy if you aren't already!