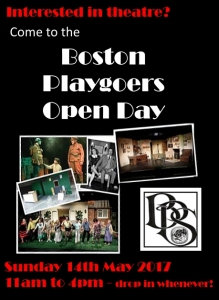 Thursday 20th April
Interested in theatre?
Come to the Boston Playgoers Society Open Day on Sunday 14 May!
Boston Playgoers are on the lookout for new members to join their friendly group. So if you're interested in acting, directing, sound effects, lighting, building set, collecting props and organising costumes, delivering flyers and posters as well as designing them - drop in and see them, have a look around the theatre, have a go, and see if you would be interested in becoming a Playgoer!
Boston Playgoers Society is an award-winning Amateur Dramatics group which was founded in 1928. The society puts on two productions a year at Blackfriars Theatre and these range from comedies to more serious classics. Boston Playgoers have enjoyed much success on both a regional and a national level, winning Best Regional Play several times at the East Midlands NODA Awards. In 2013, Boston Playgoers came second in the national British All Winners Drama Festival, following winning seven awards at the Skegness Play Festival.
Come along to find out more! Sunday 14 May 2017 at Blackfriars Arts Centre & Theatre, Boston. 11am to 4pm - drop in whenever!