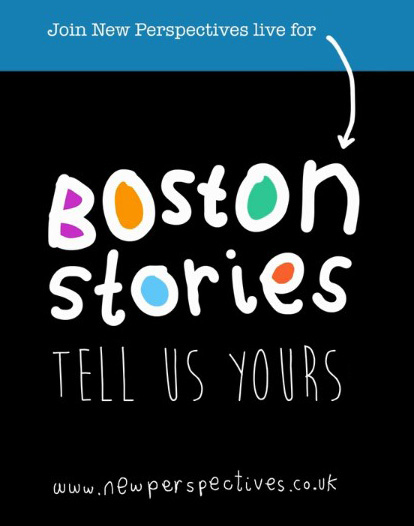 Wednesday 20th June
Boston Stories is an open invitation to the local community of all ages from 5 to 95, to write, draw, dance, sing and shout about Boston.
Nottingham based New Perspectives Theatre Company is working in partnership with Blackfriars Theatre and Arts Centre to create an explosion of art and culture across May/June 2018 culminating in a family friendly celebration, Sunday 24 June, 2pm at Blackfriars Theatre.
Jayne Williams, Participation Director for New Perspectives is working with local schools to deliver a creative writing rampage across the Year Groups to play around with words and produce stories, poetry, song lyrics, prose, lists, jokes, paragraphs, and anecdotes – all about Boston. These will then take pride of place, displayed across the stage of Blackfriars Theatre at the celebration event in June.
To widen the reach, Jayne is inviting residents of all ages to use any art-form they choose, to creatively communicate their Boston Stories.
Jayne says;'This is an open invitation to write about Boston in any creative style. Maybe tell us what ingredients go into a recipe for the Great Boston Bake Off? A pinch of Lincoln imp? A cup of Stump? A fork full of friendly faces? Or, write what lyrics might make up a Boston anthem? If arts and crafts or photography is more your thing you could snap up some images, knit bomb the Box Office at Blackfriars, build the town centre out of loo rolls? Use any art-form to celebrate Boston.'
Submissions can be emailed to Jayne@newperspectives.co.uk or dropped off at Blackfriars on the morning of the event, from 10am, 24 June. Some children, young people and adults will be invited to also read aloud/perform/share their stories or creations on stage at the celebration event at Blackfriars, Sunday 24 June, 2pm. Seats are only £3 each and all proceeds will go back into supporting arts and culture activities in Boston. Call the theatre on 01205 363108 to book a seat or click here.
This schools project resulting in the family friendly celebration event in June is part of a long-term project in collaboration with award-winning theatre and film director/producer/writer, Alan Lyddiard and New Perspectives Theatre Company, with another large scale event planned for 2019.
New Perspectives specialises in telling and amplifying the stories of rural communities from across the region, which is supported using public funding by the National Lottery through Arts Council England. In 2015, it presented a world premiere staged reading of a moving and haunting new play in Eyam Parish Church to mark the 350th anniversary of the plague. Its work in Boston continues this exploration of local communities, their history, influences and unique characteristics.