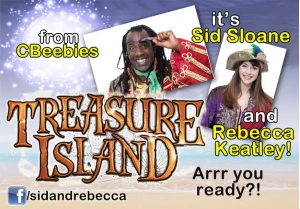 Monday 14th March
Best known for their daytime childrens program 'Lets Play' - CBeebies stars Sid and Rebecca were treading the boards at Blackfriars Theatre this weekend with their new live show - 'Treasure Island'.
Supported by Theo the Mouse and Wendy both shows were great fun and a big hit with children and parents alike.
Blackfriars Director David Grant took to Facebook to thank the stars along with Theo the Mouse and Wendy "Brilliant day enjoyed by all. Thanks for bringing the show to us first, have a great tour and hope to see you back in Boston soon". He also confirmed that a percentage of the shows profits will be donated to The Pilgrim Hospital Childrens Ward.
We are enjoying more children's shows at Blackfriars and are really looking forward to seeing Theo the Mouse and Wendy back in September with their brand new show.
Tickets on sale now so book early.
Thanks again to everyone involved.