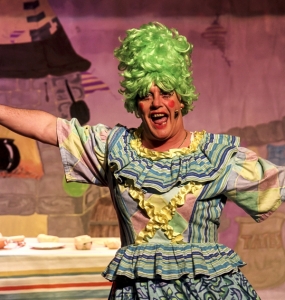 Monday 5th September
It is with great sadness and heavy hearts that we report the death of Richard Laight on September 2nd 2016.
Richard was a director of Blackfriars Theatre, taking responsibility for Health and Safety in the theatre in the past few years. His knowledge of Blackfriars was extensive – he first performed in Blackfriars as a child, and had been an active member of BOS Musical Theatre Group for twenty years, taking both principal and chorus parts. He directed and produced several successful shows with them, including Annie, Oliver and Miracle on 34th Street. His production of "A Funny Thing Happened on the Way…" was nominated for a NODA Award. He also trod the boards with Playgoers, and was in the occasional "Blackfriars" production such as Corpus Castle. He made a very good Dame in Panto. In addition he was a skilled set builder, had extensive knowledge of sound and lighting, and was an efficient Stage Manager and backstage hand. In other words he had a passion for all aspects of theatre.
In his last year he decided to raise funds for two charities close to his heart, the McMillan Fund and Blackfriars Trust. In this, as in most things that he did, his enthusiasm and drive led to great success, and he raised several thousand pounds for each cause with his calendars, his golf, his concert and just simply rattling his can in people's faces – all of this while suffering a terminal illness. He was philosophical about dying, though not without regrets, and I am sure he would want me to say to every youngster who reads this – please don't smoke.
There was one thing he loved more than the theatre, and that was his family. His beloved Lindy, and his harem of daughters were his pride and his joy, and the satisfaction that he had in seeing his girls settle down with good husbands, and starting families of their own, meant everything to him. Our love and sympathy go to them.
Richard was still a relatively young man who still had a lot to give, and Blackfriars Theatre and Arts Centre has lost a great friend.
Stuart Bull - Chairman of Blackfriars Theatre and Arts Centre