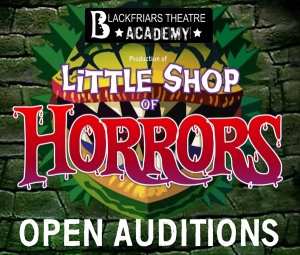 Wednesday 30th August
Look Out! Audrey II, the people eating singing plant has been spotted at Blackfriars Theatre over the summer eating some of our Academy members!
It won't be long until the bigger and scarier version will be back for our next production!
If you would like to be involved we are holding Open Auditions* for anyone aged 10-19 years over the next few weeks. It's going to be a singing, dancing, glitter burping, freaky, weird AWESOME show!!
Audition material including scripts, songs, and dance routines will all be available/taught in the workshop on Sept 9th with actual Auditions taking place on Sept 16th.
Find our event on Facebook on the Blackfriars Theatre Academy Page or email amanda@blackfriarsartscentre.co.uk to register.
Show performance dates are 1st - 3rd March 2017 at Blackfriars Theatre.
*All successful auditionees will be required to join the Blackfriars Theatre Academy for Saturday classes.