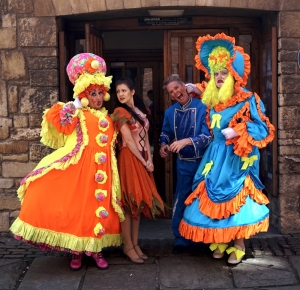 Monday 12th June
We are delighted to announce that this years' Pantomime at Blackfriars Theatre and Arts Centre will be the best loved of all, yes Cinderella is coming to Boston.
The Cast of Cinderella made an early visit to Boston last week and specifically to the Children's ward at the Pilgrim Hospital, acompanied by David Grant one of Blackfriars Board of Directors.
Pantomime producers Tony Peers Ltd who have produced the Panto for the past three years have joined with the Theatre again this year to raise money for the Children's Department at the hospital. In addition to raising money, the cast always make at least one visit to cheer the children up. This year Mark Two, who writes, directs and stars as Ravishing Rita along with Thomas-Ian Grime as Wicked Wanda, Rollo as Buttons, and of course the beautiful Lucy Rollason as Cinderella descended on the Children's Ward around 2.30pm to squeals of delight from the children and staff.
The pantomime starts on Wednesday 8th December 2017 and runs until Tuesday 2nd January 2018. Tickets are on sale via the website or Box Office on 01205 363108.