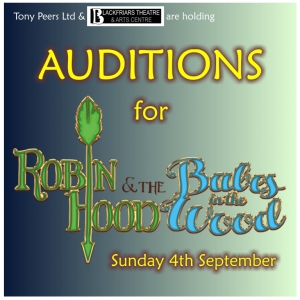 Friday 26th August
Following last year's hugely successful pantomime 'Jack and the Beanstalk', Tony Peers Ltd are again searching for Chorus Babes (Girls and Boys under 4ft 10 - age 6 to 12) and Senior Dancers (Girls and Boys any age over 4ft 10) to be part of the ensemble for this year's thrilling pantomime:
Auditions will take place on Sunday September 4th at Blackfriars Theatre & Arts Centre
BABES 11.30am- 6 to 12 years under 4ft 10 (Registration from 11.00am
Children to play speaking roles in the production will be cast from successful Babe auditionees
SENIOR DANCERS 2.30pm- any age over 4ft 10 (Registration from 2.00pm)
Each audition will take approximately an hour but you may need to stay longer if you are successful. Under 16s must be accompanied by an adult for the duration they are at the theatre.
Bring water but no food or other drinks may be taken into the audition. Come wearing comfortable clothes and soft/dance shoes. You will be taught a routine on the day. Performers unable to attend the audition may apply with a 1 minute video clip representing their dance ability, for more info contact akpperformingarts@hotmail.com
We require total commitment to the pantomime from the rehearsal period to the full run of the performance.
The pantomime runs from 9th December 2016 – 3rd January 2017
Good Luck and bring your best smile with you to the auditions!