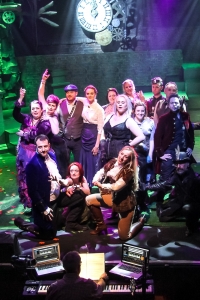 Monday 24th April
If you go down to the woods today...you're in for an aesthetically astounding surprise as the Boston Operatic Society nail a giant, both literally and theatrically!
Taking on Sondheim's lesser known musical marvel 'Into the Woods' they produce a mesmerising, touching and often hilarious show, with accomplished director Kei Bailey fully embracing the deliciously dark side of this cautionary tale with unapologetic aplomb, often bathing the set in red to hit home the death and destruction wrought by the big tall terrible monstrosities that plague our band of reckless fairy story heroes.
Inspired by the Brothers Grimm, this epic brings to life all our favourite fairy tale characters albiet with a modern spin; a joyous, spoilt brat envisioning of Little Red Riding Hood (the hilarious Lucy Freeston), a vulnerable, relatable Cinderella (a tender performance from Rachel Rowett) and the lynchpins of the piece, the desperate, world weary baker and his wife, both played with great vigour and sensitivity by Matt Barnes and Helen Graves, alongside an energetic, bright-eyed Jack (newcomer David Taylor) and his nagging mother played with great comic timing by Kate Sydney.
Alongside them is the wickedest of witches (played masterfully by Andrea Townshend) and a pair of stepsisters (the very funny Kim Sands & Jen Sands) so mean you'll be rooting for the pigeons that ultimately pluck their eyes out...plus a pair of Princes (Rob Callaby & Christian Slingsby) who will simply charm the pants off you!
The extended cast numbers more than twenty and all deserve great credit for the energy and humanity they inject into their varied roles no matter how brief their stage time, from the heat-packing Grandma to an uncharistaristically vocal front door!
Jo Warrick's set and clothing designs are a wonder all of their own, with a meticulously researched and fully realised steampunk aesthetic adorning the stage and astounding, wildly imaginative costumes to match.
Full marks to everyone involved; cast, crew, musical director, choreographer, everyone.
Into the Woods trades on its motto of "Be careful what you wish for"; I wished to be spoilt from the opening number by a plethora of local talent and this production does not disappoint.
Review of Into the Woods by Nathan L W Hughes: