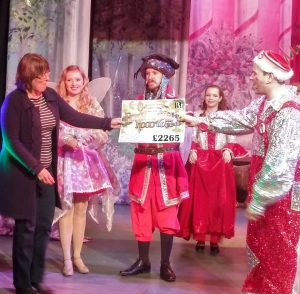 Friday 6th January
2016 has been another successful year for Pantomime at Blackfriars Theatre, with Tony Peers production of Robin Hood and the Babes in the Wood being a hit with the audiences.
Continuing on with the tradition from the last 3 years the cast of the show took the time to head down into the foyer after every performance to see the audience and collect money for the Children's Ward at Pilgrim Hospital. This year they raised a total of £2265.
Mike Carnell (Muddles) and the Cast along with David Grant one of the Blackfriars Board of Directors presented the amount to Sister Margaret Goodley at the end of the final performance on Tuesday 3rd January.
A huge thank you to all the people who attended this year's pantomime, we hope you enjoyed the show and look forward to seeing you at the theatre again in December 2017. Keep your eyes peeled for the announcement of this year's Pantomime coming soon!!
Selection of Reviews left on our Facebook Page:-
'Your pantomimes just keep getting better and better with each year and you never fail to delight. This year it was particularly lovely how enthusiastic and excited you encouraged our youngest children to be- really highlighted the festive spirit and sparked their passion in your show.'
'Amazing panto!! Haven't been to a panto since i was little. Well and truly enjoyed it. Well done to all the cast amazing fun and fab singing!! Xx'
'I'm usually a miserable sod but the panto was amazing. I laughed out loud on multiple occasions and the kids sat through it all!'