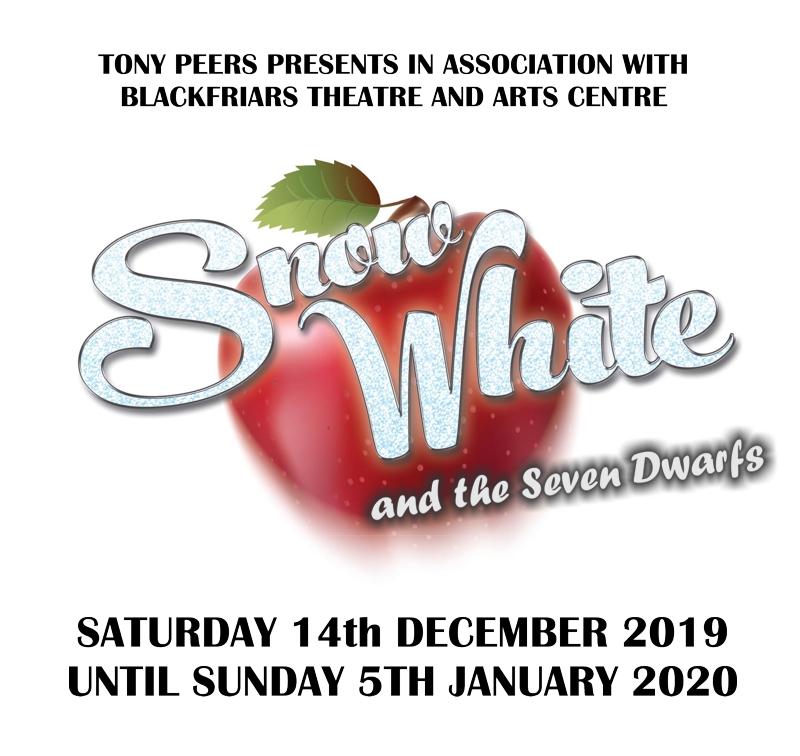 Wednesday 1st May
We are excited to announce that this year's Pantomime is Snow White and the Seven Dwarves!
Tony Peers Ltd are looking forward to bringing you this traditional and well loved by all show. It tells the story of the beautiful Snow White who runs away to the forest to escape the clutches of - yes you've guessed it - the evil Wicked Queen who is jealous of Snow White's beauty. Deep in the forest she meets seven new friends who, with the help of Prince John join together to combat the evil forces of the Wicked Queen.
With spectacular sets and sparkling costumes this show promises to keep up the tradition of a 'must see' for all the family.
Tony Peers Ltd have been bringing stunning pantomimes to Blackfriars now for multiple years and last years production of Aladdin was no exception - loved by the whole family, the hilarious Wishee Washee and Widow Twanky were firm favourites. Continuing with tradition after each show, the cast headed down to the foyer with collection buckets to say goodbye to their fans and ask the audience to make a donation to Pilgrim Hospital's Children's Ward. We are pleased to report that thanks to our generous guests, we raised an amazing £2,800! A trustee of Blackfriars, David Grant, hand delivered the cheque to the hospital and they were over the moon with another generous donation.
Huge thanks from us all at Blackfriars to everyone that attended the Pantomime and donated to this worthwhile cause. We hope you had a great time and enjoyed the show, and look forward to seeing you again later this year for the Snow White and the Seven Dwarves!
Tickets are on sale now follow this link to get yours!