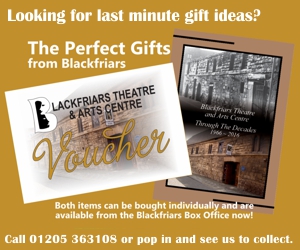 Wednesday 20th December
Still looking for that perfect Christmas Gift for your friends and family?? Why not give them the gift of a great night out here at Blackfriars Theatre with one of our Gift Vouchers.
Various values available and all kept in stock so just pop into the Box Office and we will have it all sorted for you in a jiffy.
Don't forget we also have the Blackfriars 'Through the Decades' book and our 50th Anniversary limited edition mugs available in stock.
Finish your Christmas Shopping here at Blackfriars Theatre and Arts Centre.
Box Office is open between 10am & 4pm every days up until Christmas.