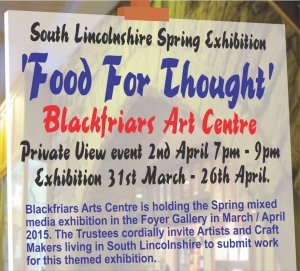 Monday 2nd February
Blackfriars Arts Centre is holding the Spring mixed media exhibition in the Foyer Gallery in March / April 2015. The Trustees cordially invite Artists and Craft Makers living in South Lincolnshire to submit work for this themed exhibition.

Artists are invited to be creative with the title, 'Food For Thought', and the link to their work. Hanging work maximum 1 metre, crafts will be displayed in our cabinets. All work will be exhibited under the artists own insurance.

Please submit your proposal of work for the exhibition including, CV, photographs of work and measurements to;

Visual Arts Committee
Blackfriars Art Centre
Spain Lane
Boston
PE216HP

Deadline for proposals 28th February 2015.