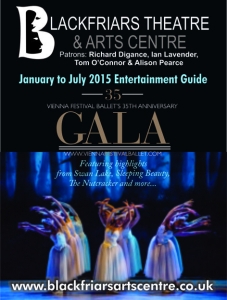 Monday 16th February
Well it is that time of year again when we have produced and distributed our latest Entertainment Guide which covers the first 6 months of shows for 2015.
You can pick up a guide from Blackfriars Theatre Foyer or many other local supportive companies in the area such as Doctors or Dentist Surgeries, Solicitors, Accountants and many more.
We also deliver a copy of the Brochure to all people who are registered on our database within a 60 mile radius. If you would like to be added to this database or if you want us to update or check your details on the database please email your full name, address and telephone number to marketing@blackfriarsartscentre.co.uk and we will get you added.
We are also beginning to send out regular emails about upcoming events so we will add your email to our email database too.
Thank you for your ongoing support and we hope to see you at the theatre again soon.