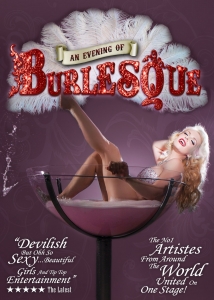 Wednesday 18th March
For the first time ever, the biggest burlesque stars from around the world are set to star on the same stage.
An Evening of Burlesque unveils a brand-new, spectacular stage show for 2015, promising that Britain's biggest burlesque production is "going global" for the new year.
Among the array of international talent brought together for An Evening of Burlesque's nationwide tour are the very best burlesque performers drawn from five continents of the world. And the themes run thick, fast and from equally far afield, according to show producer Michael Taylor.
"The set list can include strutting Vegas showgirls in all their finery, a tutu too funny take on Russia's Bolshoi Ballet, going nuts on Brazil's Copacabana beach, a Roaring (with laughter) Twenties tribute to America's Great Gatsby and international intrigue thanks to a James Bond finale, featuring a giant martini glass glamorously garnished by a splashing Bond Girl."
An Evening of Burlesque can star the following burlesque all-star performers:
· Isabella Bliss – coming complete with her own giant martini glass, Isabella provides the most glamourous of garnishes. Guaranteed to leave you shaken, Isabella's defies you not to be stirred by her performance
· Count Adriano Fettucini – Mamma mia! Audiences fall head over handlebars with the boylesque unicyclist who shucks his a three-piece suit and bowler hat while balancing acrobatically on one wheel.
· Amber Topaz – the leading lady, her powerful vocals and an uncompromising stage persona are the epitome of burlesque
· The Folly Mixtures – a burlesque quartet choreographed to thrill, featuring a tasty assortment of lip-smacking routines with themes drawn from around the world
· Storm Hooper – her explosive, show-stealing hula-hoop performances defy both the laws of gravity and impossibility, leaving audiences in an old-school vaudeville spin
· Peter Antoniou – "brilliant" BBC, "phenon-mentally good" Kerrang!, the king of psychic stand-up
· Miss Terri Pace – the award-winning drag artiste delights capacity crowds at London's celebrated Kitch Cabaret with her sensual vocals and razor-sharp wit. Miss Terri truly is the hostess with the mostest
· Penny Valent – welcome to a maelstrom of fire-eating, angle-grinding devilment
· Coeur de Plume – feathers fly as the Burlesque Idol 2013 finalist invites you to an intimate "tea for two"
· Kitty Devine – classically-trained, Kitty hung up her ballet shoes and leotard in favour of sparkly stilettos couture costumes, establishing herself as one of the UK's leading lights in the world of burlesque
So many fabulous performers to see - will you join us???