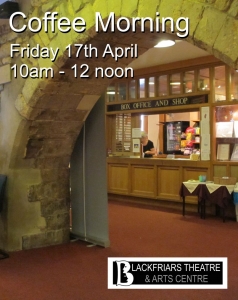 Monday 13th April
Blackfriars Volunteers are holding another Coffee Morning in the Blackfriars Gallery Foyer on Friday the 17th April from 10am - 12 noon. These run every 3rd Friday each month.
The current exhibition in the Gallery Foyer is 'Food for Thought' the South Lincolnshire Spring Exhibition showcasing work from 11 different local artists.
Why not pop in for a nice hot drink, cake and a chat.
Cup of Tea or Coffee and a slice of cake just £2. Conversation is Free. :)