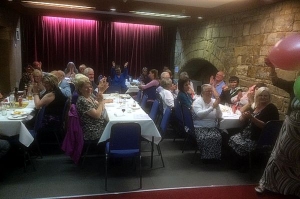 Monday 15th June
Blackfriars Theatre and Arts Centre is predominately run by Volunteers, without whom the theatre would struggle to survive, so in order to go a small way to thank these volunteers for their committment and support we occasionally hold a volunteers party night. The latest party night was last Friday 12th June and by all accounts it was a night to remember.
Ably set up and managed by Sarah Moore one of the theatre directors it was a night filled with quiz games, spot prizes and much more.
The night ended with a reincarnation of Crackerjack which resulted in Murray taking home the prizes and Victoria taking home the cabbages both very happy.
Blackfriars are always looking for more volunteers so if you're interested please pop in and have a chat with one of the ladies in Box Office.