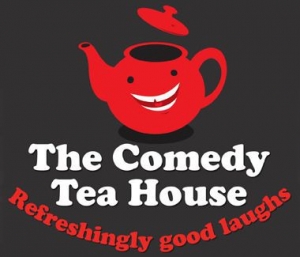 Wednesday 1st July
Local performer and choreographer Abi Kingsley-Parker is a regular at Blackfriars Theatre and after attending The Comedy Tea House on Friday night with friends she sent us this email which we wanted to share with you.
As one who enjoys live performance and is a regular member of the Blackfriars audience, I must admit it was with some hesitation that I agreed to join my friends for an evening with 'The Comedy Tea House'…my experience of this genre being somewhat jaded by a particularly raucous military squadron evening of stand-up comedy in the past which left me with a distinctly bitter taste.
However, Friday 26th of June at Boston's historic theatre belied all my previous concerns and, to coin the Tea House phrase, certainly delivered its 'Refreshingly good laughs!' The Lincolnshire based company presented some top quality comedy acts which were refreshingly enjoyable on every level. The theatre was buzzing with expectation on arrival, both bars were open and it was great to see the venue being used as a vibrant hub during the pre-show period as couples and groups of friends socialised before taking their seats in the auditorium.
MC Dave Twentyman set the pace of the night and hit all the right notes with his quick witted banter and friendly roguish charm. Steve Royal as the opening act cranked up the atmosphere with some energetic entertainment as he lithely leapt about the stage with a beguiling sprite like quality, juggling various props whilst delivering some cracking comedy. This was fast and funny showmanship that the audience relished.
After a short break the supporting act, self-confessed grumpy man Alan Sharp took to the stage and proceeded to hurl a torrent of complaints about life in general at us! After such exuberance from Steve this formed a stark contrast in mood to the evening but his absurd ponderings and grievances were to the point and cleverly delivered. I've never felt so aggrieved about the ridiculous amount of KitKat varieties now available…I just hope Alan's twisted view of the world is not contagious!
The evening culminated with headline act Rob Rouse who pitched his material perfectly with a set that had myself and my group in tears of laugher at times! His side-splitting overshares of family life's finer details and his brilliant re-enactments of parenthood were hilarious and rounded off the evening on a most definite high!
This was a night I will certainly be returning to enjoy again. The Comedy Tea House has created a comedy fan in me and restored my faith that this is a performance genre to be relished. The Comedy Tea House will be returning to Blackfriars in September, with 3 new acts so make sure you don't miss out on a great evening!
Abi Kingsley-Parker