History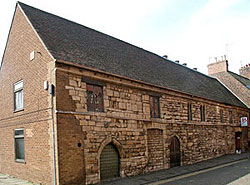 Blackfriars undoubtedly plays a very important role as Boston's centre for entertainment and the arts. It is home to two very successful local amateur dramatic and operatic groups, as well as hosting a varied program of professional stage productions.

Its history as a venue for the arts dates to a meeting of the local drama and arts groups which took place in 1959, at which it was resolved to find premises, which could be converted, into a theatre. Led by Alan Champion, warden of Pilgrim College, and local architect Alan Meldrum, the idea of creating a "Little Theatre" from the remains of the thirteenth century Dominican Friary, in Spain Lane, was formed. In September 1961 the Blackfriars Trust was formed to raise money for the conversion, supported by a grant from the Ministry of Works.

The opening of the theatre in 1966 was the first stage in the development of a complete Arts Centre. Over the following years two studios, a kitchen and office were added, and in 1980 the first full-time professional director was appointed. Today Blackfriars is runby a board of directors and relies on a dedicated force of volunteers who provide vital support in the box office, administration, as front of house stewards, bar staff and various other duties.